Contributing to Susan's Rally
Rally Angels
Our Angels give so generally of their money and their time. The list grows each year, as does our gratitude.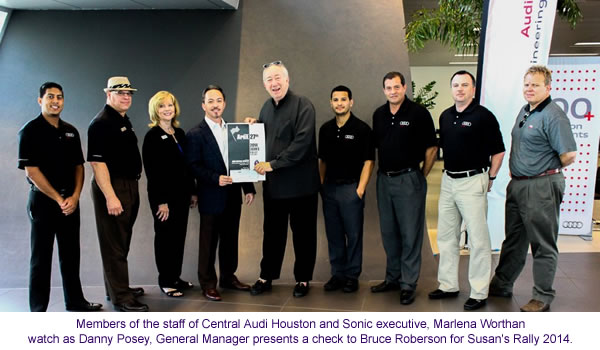 CORPORATIONS & FOUNDATIONS
MOMENTUM VOLKSWAGEN AUDI
Alyson Jon Interiors
CHRISTUS Stehlin Foundation for Cancer Research
Douglas-Guardian Services Corporation
Exxon-Mobil Foundation
Festoni
High Fashion Home
The Joseph Company
The Kaim Family Foundation
Katie Kitchen/Paul Kovach Fund
LADCO Design Center
Sunbelt Group LP
$2,500+
Birgitt & Gerhard Adenacker
The Kaim Family Foundation
Bruce & Martha Lurie
$1,000+
Chase Breidenthal
Jim & Betty Caveny
Rick Christie
Katie Kitchen & Paul Kovach
Ron Koutsodontis
Suzanne & Ed Rathbun
$500+
Judy & Ron Biffle
Kirk &Debbie Brassfield
Michael & Sally Clark
Gabby Guerra
Sonja & Steve Johnson
Bill & Margaret Larkin
CHRISTUS Stehlin Foundation for Cancer Research
Reese & Jerri Terry
$250+
Maureen Alsup
Billie Bond
Mike & Kim Box
Karen Briscoe
Mary & Charles Calvin
Jane Cherry
John Cooney
Kristen Dockter
Marcia Edgar
K. G. & Georgeann Eidman
Dr. Richard & Dawn Gervais
Ann Hodges
Lora Jean Kilroy
Karen & Hans Knickrehm
Sharon Macha & Rich Monroe
Jane Martin
Mike Moore
Robert & Tine Knickrehm Purvis
Harry & Ludeen Sweeney
K. J. & Jonathan Toombs
Jan Wallace & Donald McDonald
Tom Williams
Thank you, thank you!
It's tough to know where to start thanking folks who make Susan's Rally such a successful enterprise.
• We'll begin with Polo Becerra at Post Oak Grill who continues to support our efforts with the auction site and Finish Line Party with delicious food, great bar, and their
generous brand of hospitality.
• And of course Tillman Fertitta and Barbara Marquis at the Cadillac Bar who were so generous with their help both with the Rally Kickoff Party and with providing the
perfect Starting Line on the day of the rally.
• Jane Martin and Sharon Heaton fixed us up with the perfect Kickoff Party at
Cadillac Bar.
• Rhonda Ross and Mike Moore did a great job to get-out-the-cars. We had more cars than ever entered this year.
• Patricia Page did the often frustrating and mostly unheralded job of getting the invitations designed, printed, and mailed.
• Max Yarbrough and all his helpers got all the cars off with their instructions and good-luck wishes.
• And how could our auctions be so successful without the many long days of work from our auction folks: General Chair Sue Sutton and Co-chair Louise Hefner, with Kathleen Smith heading up the Live Auction, and Tom Yerby chairing the Silent Auction.
• Corporate Chairs Martha and Bruce Lurie successfully made sure our backers from the corporate and foundation world were right there with us.
• D'Artagnan Bebel and our own Lisa Whitlock at Channel 26 Fox TV helped us get the word out to Houston about the Rally. Ron and Jackie at Cox Radio's 107.5 KLDE were right there, too, telling our story.
• Jamie Watson shepherds our website (susansrally.org), for which we remain so thankful.
• Treasurer Stephanie Dorman works long hours to keep us all honest.
• Beverley Sutton not only keeps an eye on the action at the office, but shows up whenever we need extra help.
• And thanks to Bruce Sogoloff our talented (and patient) graphic designer who has
donated his time working on the newsletter.
• And of course, our fabulous president Bruce Roberson is our sine qua non.
Susan's Auction Angels
What's one of the favorite activities of Susan's Rally? The auctions, of course. And thanks to the following donors to our auctions, ours is one of the best in the city, year after year. Support the businesses below who help us; drop in and say thanks, and maybe do some business while you're there. And just give a hearty thanks to the individuals who fight breast cancer by donating auction items.
A to Z Building Inspection (Bill Loftus), Birgitt & Gerhard Adenacker, Linda Adkins, Clay Albers, Alley Theatre, Maureen Alsup, Alyson Jon Interiors, Jack Amschwand, Apollo Scooter, Armando's, Daniel Avilan, Caroline Baizan, Judy Biffle, Billie Jean's Wig Salon & Boutique, Blissful Beauty Salon (Jesse Garcia), Allan Boase, James Bogardus, Debbie & Kirk Brassfield, BRC Gastropub, Chase Breidenthal, Danny Brown & Pure Plumbing, Steve & Diana Brown, Bill Buck, Deepak Budhrani, Eric Burnett, Anthony Butkovich, Cabinet Innovations (Mary Calvin), Dr. & Mrs. Luis Campos, Carmelo's Ristorante Italiano, Charivari Specialty Restaurant, Rick Christie, The Cool Dude, The Country Gentleman Antiques (Larry Bahn), Lynn Cueto, Veronica Custer, Custom Solutions-MK Dauria & Associates, Joe Daleo, Dharma Café, Ray Donley, Stephanie Dorman, Susan Downs, Eco-Tech Pest Control, Carolyn Edgar, Marsha Edgar, El Tiempo Cantina, Equilibrium Center (Angela Ashton), Harvey Evans, Sheldon (Charley) Evans, Executive Baskets Inc., Eye Love My Lashes (Debbie Weeks), Festoni Inc., Jeffrey Fleck, Fountainview Barber Shop, Fort Bend Mechanical HVAC Service & Installation, Funky Chef Catering, Kim Gallogly, Gus M> Garza, Dr. Richard & Dawn Gervais, Dr. Richard Gervais D.D.s., Ann Gilbert, Gibson's Landscape Contractors, Gigi's Cuddlies, Glass Craft Door Co., Sarah Goldshadi, Terry Gonzalez, Goode Company, Go TM3 LLC, Great Hair & Jewelry, Maureen Hall, Lyn & Ken Hamilton, Haven-A Seasonal Kitchen, Joan Hellings, Dr. James R Herbst II D.D.S, High Fashion Home, Houston Dynamo, Houston Symphony, The Houstonian Hotel/Club/Spa, Jack's Carpet, Sam Kamas, Karen's Kloset, Fred Keinz Photography, Jeanie Kilroy, Nicole Kingston, Hans & Karen Knickrehm, The Lab Hair Studio (Renee Sizemore Lansdown), Jared Lang, Lankford's Café & Ice House, LADCO Design Center, Phillip Ladin, Bill & Margaret Larkin, Lindsey Law, Ledbetter Sebring Hair Design, Le Jardiniere, David Lundstrom, Bruce & Martha Lurie, Danielle Lurie, Maureen Lynch, M.A. Excel Centre Houston (Dr. Reginald C. Buford & Jackie Barreda),Tony Mandola's Gulf Coast Kitchen, Marmi Shoes, Jane Martin, Marquita Masterson Inc., Masraff's, Linda McNeilly, Michelangelo's Restaurant, Mike Moore, Cindy Morrow, Jonathan Morrow, Morton's The Steakhouse, Eduardo Muniz, My Office Products, David Nance Photography, Nazy's Hair Salon, Nori Sushi Bistro, Carlos Obando, Sue Olds, One to One, Pappadeaux Restaurants, Paris Style Beauty Salon, Mary Parnham, Persona Medical Spa, Ulrike Peto, Lea Pheeney, Phil & Derek's, Pina Chiropractic Clinic, PlantsNPetels, Robert & Tine Knickrehm Purvis, Hanne Ranft, River Oaks Nail & Spa, Bruce Roberson, Robert's China, Rhonda Ross, Angela Segari & Luis Salinas, Segari's Restaurant, Segway Tours of Houston, Kaitlyn Sharp, Sienna Plantation, Silverlight Photography, Brooks & Kathleen Smith, Carol Smith, Curtis & Debbie Smith, Karen Smith, Smith Optical, Rhonda Smith, Strom & Teresa Smith, Bill Smolensky, Stages Repertory Theatre, Stay Fit with Scott (Scott Langham), Sunset Blvd Animal Clinic, Ludeen & Harry Sweeney ,Tall Plants, A Taste of Wellness, Tootsie's, TQLA Restaurant, Ursula's Facial Care, Marcus Vandrovec, Venetian Blind-Carpet One, Gregory S. Vidal, Bill Walker Clothier, Terry Walker, Ivy Watson, Dr. & Mrs. Steve Wells, Tom & Carolyn Williams, Dale & Naomi Wilson, Marlon Young, Mr. & Mrs. Gene W. Zeier Sr.,