PaperCity coverage of the 2013 Susan's Rally...
Mary Kay speaks about Susan's Rally...
Bruce Roberson on the radio speaking about Susan's Rally
Bruce Roberson named as one of Houston's 25 most beautiful
Bruce Roberson was named as one of "Houston's Most Beautiful" by H-Texas Magazine. Here's an excerpt from the article:
BRUCE ROBERSON, interior designer, lost his beloved sister, Susan, seventeen years ago to breast cancer. He had for many years hosted a fun car rally every spring for his friends, and Susan had always flown from her home in Tulsa to Houston to attend. Bruce's car rally abruptly stopped with Susan's death. It was Susan's friends who successfully urged Bruce to re-start the rally and turn it into a vehicle for fighting his sister's disease. Bruce formed a committee, and a non-profit entity was born; the rally took on a new life and a new meaning. From that first Susan's Rally, which raised $4,000, it has grown to raise millions in cash and in-kind donations with over 90 percent of what is raised going to fight breast cancer through education, research and patient care and support. Bruce recently opened a Susan's Secret ReSale Shop and will hold the first Health Fiesta with sponsorship from Susan's Rally, in conjunction with Baylor College of Medicine OB/GYN department and Dia de la Muher Latina, this year.
Click here for link to full article on the HTexas.com website.
2012 Susan's Rally Christmas Tree at Houston's Alley Theater
Click here to view the images of the Christmas Tree designed by Susan's Rally.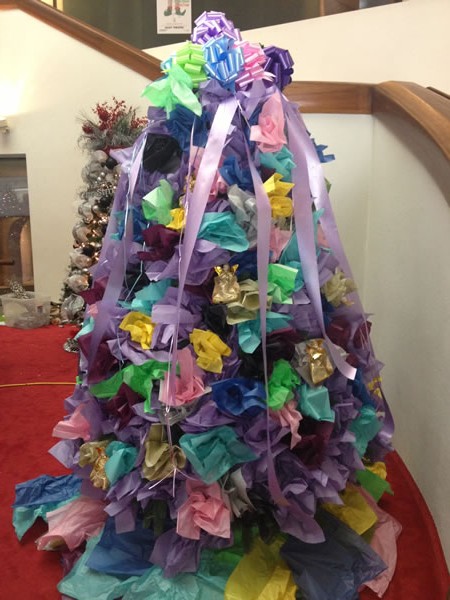 2012 Susan's Rally Christmas Tree at Houston's Alley Theater
Click here to view the images of the Christmas Tree designed by Susan's Rally.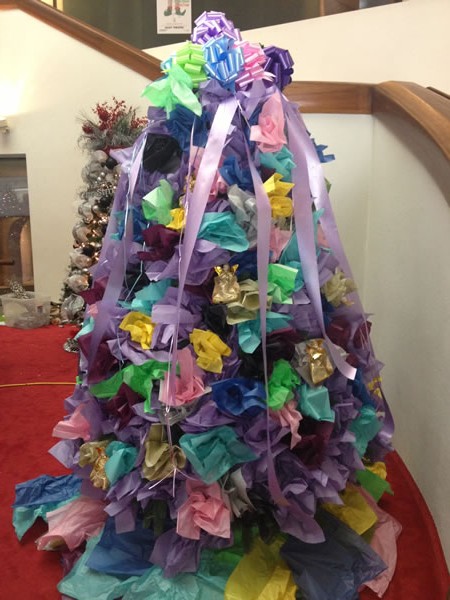 PAST EVENT: Fiesta de Slaud - Health Fiesta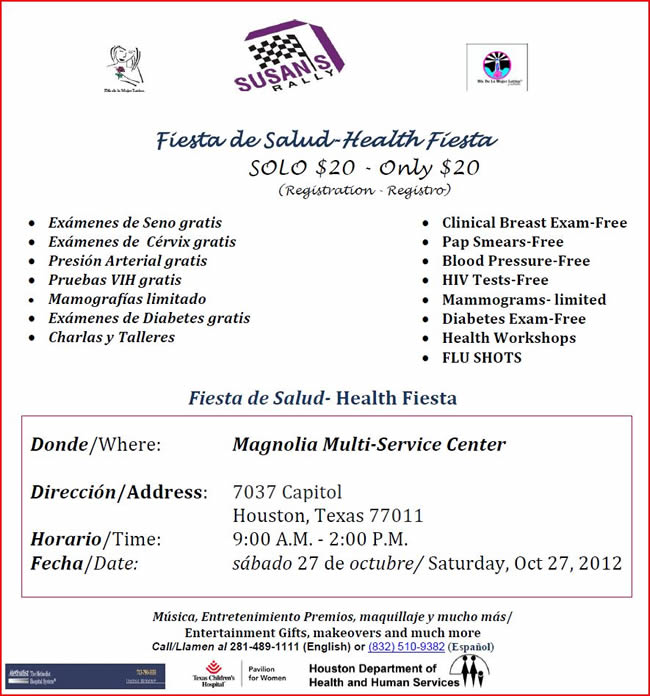 Click here to view the images from Susan's Secret, our resale shop!
Introducing "Susie", our new truck!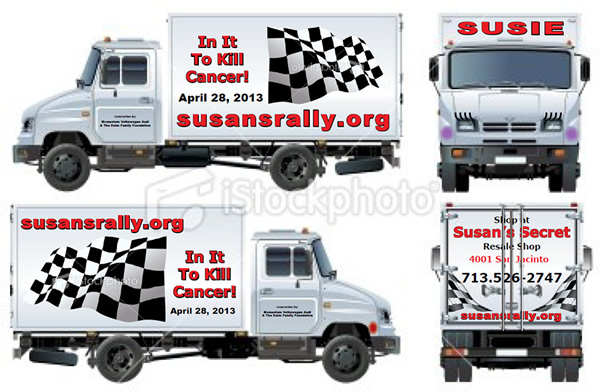 October 2, 2012 - "Susan's Secret" Resale Shop opens
"Susan's Secret" — that's the name we've given to the soon-to-open resale shop containing furniture and accessories items donated by our galleries and other friends - items too large or too numerous for us to use in furnishing our Medical Center apartments for cancer patients.
Open for business on Tuesday, October 2nd. Store hours will be Tuesday thru Saturday, 10:00 a.m. to 3:00 p.m. We're looking for volunteers who might want to spend a few hours a week helping to attend to the store. Let us know by return email if you're interested and can give us a helping hand.
But, also, come visit us during our Grand Opening open house on Saturday, September 29th from 11:00 to 1:00. We're located at 4001 San Jacinto St. (at Isabell), across the street from the Ventana apartment building, in the Kwik Kopy building.
Hope to see you there!
June 14, 2012
Susan's Rally donate a second check to Baylor College of Medicine for Children.
June 12, 2012
This is the ground breaking ceremony for Momentum Audi on Shephard and 59South. This will be a 23 million dollar investment and will make Jared Lang the head of the largest Audi dealership in the United States. As a side bar, Momentum Audi and Sonic are Susan's Rally's stalwart supporters and underwriters. Support them when you can!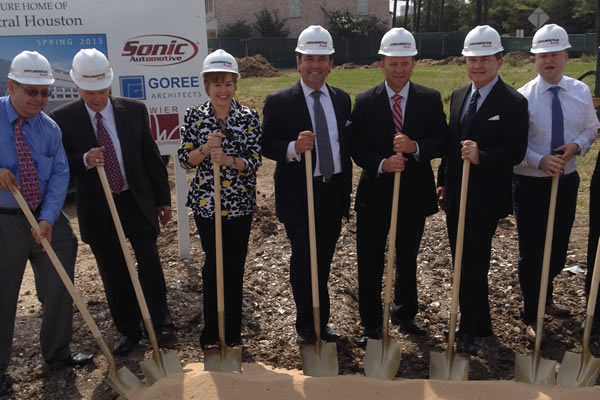 March 31, 2012
Susan's Rally donates first of 3 checks to Baylor College of Medicine to underwrite clinical breast exams for the free clinics of Dia de la Mujer Latina, Inc.